Nürnberg (Nuremberg) is an important city for fair and commercial Expo events and therefore this city is gifted with many hotels of many different standards and price levels.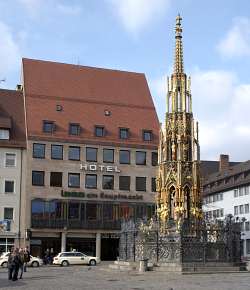 Hotel Garni - am Schönen Brunnen is a 3 star hotel situated at the market place - in the beautiful centre of Nürnberg. Close to the toy museum and other tourist attractions. A nice walk of 10 - 15 minutes to the Central Station. All rooms have shower. Price-levels are 77 - 108 € (single)/ 92 - 128 € (double). Expect 40 - 50 percent extra when big fairs and Expos are taking place.
Hotel am Schönen Brunnen
Haubtmarkt 17, D-90403 Nürnberg
Phone: (+49) 0911 224 225
Staying in Nürnberg will often be in connection to an event in Nürnberg Messe in theese periods it can - even among the many hotels in Nürnberg - be very difficult to find available rooms - especially in the city centre.
During a fair many visitors will prefer to stay close to the central station - Haubtbahnhof - making it possible to reach Nürnberg Messe in a few minutes by the metro - the U-Bahn. Staying near Königsstrasse - the entrance to the city centre - is number one choice for many.
If however this is impossible because all hotels are full, it is not a bad second choice to find a hotel close to one of the two metro lines U1 or U2. Both lines are passing the central station where you can change between the two lines. To stay close to a U1 station is the best since it is passing the Exhibition Centre - NürnbergMesse - but it is no problem to stay near a U2 station either since it only needs one change at the Haubtbahnhof to U1.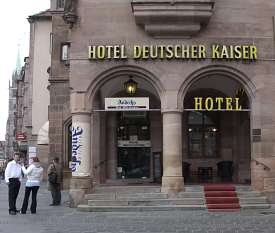 Hotel Deutscher Kaiser - placed only two minutes walk from the central station. Traditional style placed in a historic house in Königsstrasse. Prices are 87 - 148 € (single) / 106 - 180 € (double). Expect 70 - 80 percent extra in fair season.
Hotel Deutscher Kaiser
Königsstrasse 55, D-90402 Nürnberg
Phone: (+49) 0911 242 66 0
The metro makes it possible to stay convenient even as far from the centre as Fürth from where you in a short time can reach the city centre - or the fair centre by changing metro only once. Another possibility is to find a hotel in ex Langwasser that is placed on U1 only few stops from the stop Messe (exhibition centre).
A less convenient - but realistic - possibility is to stay in a hotel in one of the surrounding towns or villages - like Erlangen - from where you can reach Nürnberg by regular trains. But if you plan to enjoy the late night life in Nürnberg it is important to note that it hardly will be possible to reach a train after 01.00 at night (1 am) going home you hotel.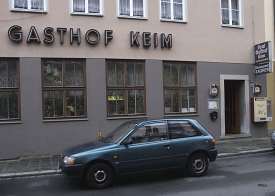 Gasthof Keim is probably one of the cheapest hotels in the centre of Nürnberg - but centrally situated at a side road to Königsstrasse - only few minutes walk from Haubtbahnhof. Prices are close to 30 Euro per night. Possible to arrange more beds for a family room. No extra price during fairs
Gasthof Keim
Peuntstrasse 10, D-90402 Nürnberg
Phone: (+49) 0911 225940
The price for a hotel room in Nürnberg vary a lot and you will often have to pay considerable more during a period where a big event is going on at Nürnberg Messe - in some cases more than a hundred percent overprice. The fair-prices - Messe-Preise - are ofcourse especially common at the hotels in the centre of Nürnberg.
There are however also very big differences between the hotels when it comes to how much extra you have to pay to stay during a big event like Biofach or the Toy Fair or Brau Beviale. Some hotels only ask you to pay 20 - 30 percent more while others are not shy to ask a hundred percent - or more. Only few hotels have decided not to increase the price during events.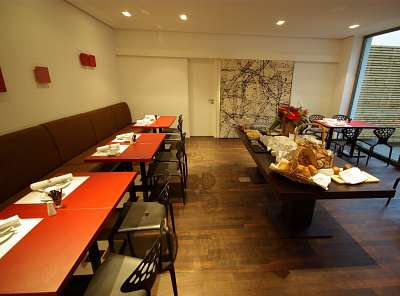 Art & Business Hotel is a modern hotel with focus on design and art. The hotel has its own bar and puts effort in producing its own healthy breakfast. Only few minutes walk to the central station. Prices are form 94 Euro for single room and 120 Euro for double. Special lower prices at weekends. Prices during fairs and events varies.
Art & Business Hotel
Gleissbühlstrasse 15, D-90402 Nürnberg
Phone: (+49) 0911 23 21 0
Photo: Art & Business Hotel